Illawarra Register
The Illawarra, and South Coast regions are all beautiful areas of our state, it consists of a coastal plain, narrow in the north and wider in the south, bounded by the Tasman Sea on the east and the Illawarra escarpment on the west.
The  Illawarra district extends from the southern hills of the Royal National Park in the north to the Shoalhaven River in the south and contains the city of Wollongong, the third largest urban area in New South Wales.
North of Wollongong the plain narrows to a small strip of land between the coast and the escarpment.
To the south it widens and becomes increasingly hillier before reaching Stockyard Mountain, a long divide between the main plain and the Jamberoo Valley, which stretches until it reaches Kiama.
South of Kiama is Saddleback Mountain and south of that the Shoalhaven plains and the outcrop of Coolangatta Mountain.
The word "Illawarra" is derived from the Aboriginal Tharawal word "Allowrie"
The word is variously translated as "pleasant place near the sea" or "high place near the sea"
The pre-fix of "illa is also known to mean "white clay" with the suffix "warra" sometimes spelled as "wurra" meaning "mountain" in the local indigenous language.
George Bass and Matthew Flinders were the first Europeans to visit the area, with Flinders recording that it was called "Allowrie" by the natives. 
For the period around 1806, the region was called "Five Islands" referring to the group of five islands off Red point Port Kembla. 
The Illawarra region is characterised by three districts, the north-central district being a contiguous urban sprawl centred on Wollongong and Lake Illawarra. 
The Illawarra region has an abundance of interesting places to visit and great driving roads on which to exercise your Jaguar. 
So keep an eye on the events calendar and join in on a run in the beautiful Illawarra.  If you have a favourite place, suggest it or organise an event, any member can organise an event, just give me a call..
Ron Critcher
Illawarra Register Secretary
Register Secretary
RON CRITCHER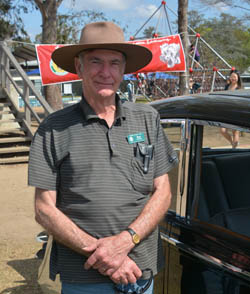 CLICK HERE TO SEE MY PROFILE »