RON CRITCHER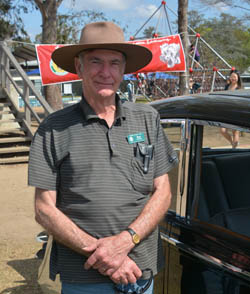 Register Secretary
I brought my first Jaguar 35 years ago. It was a 3.4 litre automatic MK2 that belonged to a person I worked with at the Port Kembla Steel Works. He had five Jaguars and this was the one he least liked. The car was completed refurbished which took three and a half years to complete. 
In 1991 I brought my second Jaguar a MK V which was in thirteen cardboard boxes and had the mudguards attached to the roof and came from Goulburn. This too was completely rebuilt and took five and a half years. Both cars were used in a Wedding Car business I was involved in with two other Jaguar Club members.

In my working life I trained as a Mechanical Engineer at the Steelworks but went into the production side of the Steelworks after completing my time firstly in the Rolling Mills and then in the Slab Yard. I was employed at the Steel Works for 43 years.

I am married to Eveline and have three adult children.

My other interest is as a member of the Scout Movement. I am currently the Group Leader of 1st Bulli Scout group which has about 80 members and Chairman of the Mt. Keira Scout Camp Management Committee. I have been a member for fifty seven years.

If you are a new member or someone looking at the website and thinking of joining you will be welcomed by everyone, and the best way to get to know more members is to get involved.

The Illawarra Register organises events mainly for those members located in the Illawarra area, but all members are welcome to attend. Our events are varied and have included runs to motor museums and shows, historic towns, breweries, rail museums, vintage train rides, breakfast & high tea venues and weekends away.  

Here in the Illawarra we are blessed with a beautiful scenic coast, high escarpments, enjoyable country roads and of course the glorious Southern Highlands.

New members are encouraged to join in and enjoy your Jaguar with likeminded devotees.

Hope to see you soon on a run or at an event.

Ron Critcher 

Illawarra Register Secretary