Classic XK
The The Register lists the XK owners in the Club. "X" stands for experimental and "K" the series of engine configurations.  The "120" was used in the name as it could achieve 120 miles per hour.  The XK engine went into production in 1948 finishing in 1998.  The XK engine was first used in the XK 120, an aluminium sports car.   
Only 200 aluminium models were produced prior to the steel bodies but the aluminium bonnet, doors and boot lid were retained in the roadster or Open Two Seater.  Other body styles followed the roadster namely the Fixed Head Coupe and the Drop Head Coupe. 
When the XK120s competed at Le Mans in 1950, Jaguar had realised that they had the makings of a successful competition car, but they needed to save weight and improve the aerodynamics. With approval from William Lyons, Bob Knight designed a tubular chassis to take a slightly modified twin OHC 3.4 litre XK120 engine and  Malcolm Sayer created an aerodynamic body and the XK120C (later to be called the C-Type) was born.  Fitted with drum brakes a XK120C won Le Mans in 1951 and then in 1953 disc brakes were fitted and they won again with the fasted ever (at that time) average speed tor the entire race.
In 1954 a new body style was produced with full bumper bars and more leg room, known as the XK 140 Sports car.  It was aimed at the American market.  Once again, three body styles were offered.
The XK 120D or D Type racing Jaguar was produced to win Le Mans which it did in 1955, 1956, and 1957.  It had a monocoque construction tub in aluminium and Weber carburettors.
In 1957 the XK 150 sports car with Fixed Head Coupe and Drop Head Coupe was released followed by the Roadster in 1958.  The XK 150 was 150mm (6 inches) wider all with disc brakes. There were four engine configurations, namely 3.4 and 3.8 litre with the "S" models having three 2 inch carburettors. 
As the "D" Types were no longer competitive on the race track, the XKSS, the road going "D" Type with limited creature comfort, namely a hood, was developed for sale.  OKVI, the privately owned and built XKSS owned by John "Jumbo" Goddard had full instrumentation and a one piece wind screen.
Some of the early racing and speed records of the XK120 roadster include winning The Interaction Alpine Trial of 1950.  This aluminium roadster was driven by Ian Appleyard and his wife Pat (the daughter of William Lyons) number plate NUB 120.  I sat in this car at the Beaulieu National Museum in 1974.  It was maintained as it was raced.  Two XK120s finished 12th and 15th in the 1950 Le Mans.  A young Stirling Moss won the Ulster Tourist Trophy Race at Dundrod in Tommy Wisdom's XK120, JWK988.  Other famous drivers include, Peter Whitehead, Leslie Johnson and Tazio Nuvolari.
At the Montlhery Circuit near Paris an XK120 FHC driven by Moss and Johnson ran for seven days and nights over 100mph.  It had radio transmission back to the pits.  The price for an XK120 Roadster then was £1263 including sales tax.
In Australia an XK120 driven between Darwin and Alice Springs by Les Taylor and Dick Rendel achieved an Open Speed Record of 91.3 mph in 1951.  Two commemorative runs in 1996 and 2001 were organised by the Jaguar Car Club of Victoria.  A record of 36 XKs completed the run.  Ivan Stephens and John Clucas in an XK120 drove from Melbourne, the late Noel McMillan and Hal Spiegal in an XK120 and Ian Hutchinson in his XK150S DHC "Rough Red" from Sydney.  The XK120 that completed the run over 954 miles in 10 hours and 32 minutes used 600 millilitres of Castrol oil and no water and averaged 11mpg.  This car is currently owned by Kees Heybroek .  Its chassis number is 660569.  Prior to Kees' ownership it was used to deliver mail, clocking up 400,000 miles. XK Commemorative Number Plates were issued by the NT Police and were legal for three days of the tour.
The all aluminium XK120 with its limited production is probably the most desirable XK and the JDCA is fortunate to have one.  Owned by long term member Mike Downey, it was purchased from the late Ian Broughton for a very reasonable price.  Club Patron, the late Ian Cummins owned an almost famous XK120 chassis number 660832 which raced in an Australian Grand Prix, achieving a respectable fourteenth place.  This car which now lives in Tasmania was my first XK purchased from a car sales yard in Rockdale in 1964 after a two year search for 600 Pounds!
In 1969 at the first Jaguar Club National held in Albury Wodonga, John Elmgreen won the Gymkhana in his white XK120 drop head coupe.  John teamed up with Terry McGrath from Western Australia to write "The Jaguar XK In Australia" in 1985 and later in 2009, "The Jaguar XK In The Southern Hemisphere."  Rich with photographs and XK profiles from their initial purchase both these epic books have become references for looking for XKs by chassis and engine numbers. Disclaimers however do apply!
The XK 140 too has its place in the Club's history.  I followed an XK 140 roadster owned by Rob Gill with the number plate NEL 131 to one National in the early 70s with the hood down but the tonneau kept moving.  I later found out there was a young lady under the cover.  Club members, Lionel and Gael Walker's roadster XK140 is significant as they have owned it for over fifty years during which time they have competed in Concours and speed events and have upgraded it to XK150S specifications, as you do.
XK140s of both Robert Clare and Ken White (who claims he knows nothing about concoursing?) have won National Concours D'Elegance and Peter Henderson won the National Concours in 1991 in his ex LHD XK150 roadster.  The following year Bill Koppe won in his XK150 Drop Head Coupe.  In 2006 Michael and Pamela Pain won both the National and State Concours in their XK150S roadster and in 2009 Alan Sebesfi's XK120 restored by Concours Sports Cars won the Nationals.
Both "C" and "D" Types have done well in State and National Concours with Ian Cummins "C" Type winning the State Concours in 1975 after a five year rebuild.  In 1991 Ian competed at the Nationals in Brisbane with the "D" Type 510.  A second rebuild by "team Cummo" was undertaken on this car after it was brought back from a beach in Singapore by John Hallihan where it was found as a complete wreck having been involved in two driver fatalities.  It was subsequently sold to the late Bib Stillwell.  Ian Cummins bought it back then sold it to Warren Daly.  Keith Berryman's "D" Type 526 won the National Concours in 1983 and again in 1988 and is often raced by Keith.   A "D" Type was sold by Sothebys, RM Auctions in 2016 for US$19.8 million.
Hollywood movie stars loved the glamour of the XKs.  Robert Stack, "The Untouchables" owned an XK120 FHC and Gary Cooper, "High Noon" an XK 120 Roadster.  Clint Eastwood, star of many spaghetti westerns owned an XK150 roadster and Clark Gable of "Gone With The Wind" fame owned two XK 120 roadsters.  Comedian Tony Hancock also owned an XK120 roadster whilst Anita Ekbert owned an XK140 roadster and Steve McQueen an XKSS "Bullet."  An XK 150 featured in "Play Misty for Me" staring Clint Eastwood and "Blue Ice" starring Michael Caine. XK120s features in the TV series "Father Brown" and "Midsomer Murders". Humphrey Bogart owned an XK 120 and currently Harrison Ford of "Star Wars" and the "Indiana Jones" series owns an XK140 DHC.
In 2003 Ian Hutchinson drove around Australia in Rough Red on Highway One in 47 days with the hood down; and thus answers to Hood Down Hutch or HDH. He also drove to the top of Mt.Kosciuszko in the summer of 1972.
The list of XK Register Secretaries over the years is impressive and includes myself, Mike de Cros, Mike Downey, Jim Byrne, Andrew Stewart, Peter Henderson, Richard Crawshay, Gavin King, Brian Titheridge in conjunction with Ken McLachlin, Ian Hutchinson in conjunction with Brian Titheridge and again with Malcolm Ireland and most recently, Ian Hutchinson, Lionel Walker, and John Elmes. 

Keep driving

Written by Ian Hutchinson (updated 1st March 2022)

John Elmes
Register Secretary 
XK120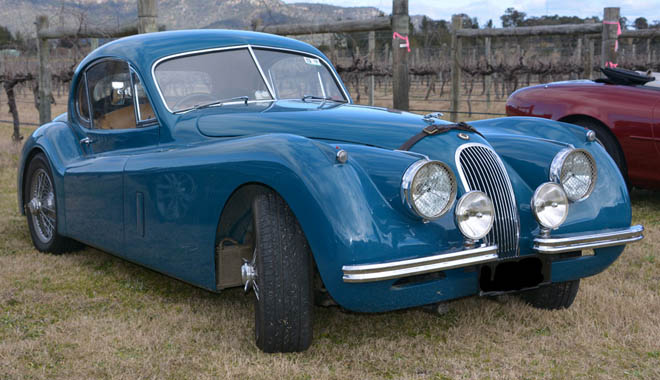 XK140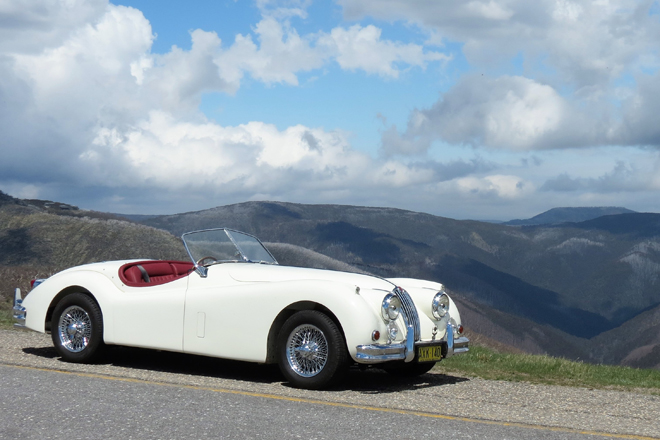 XK150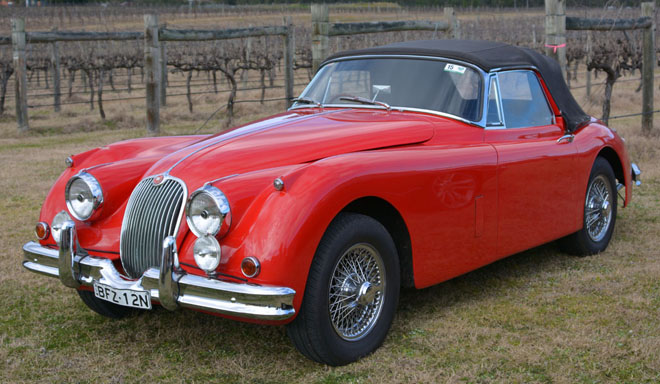 XK150S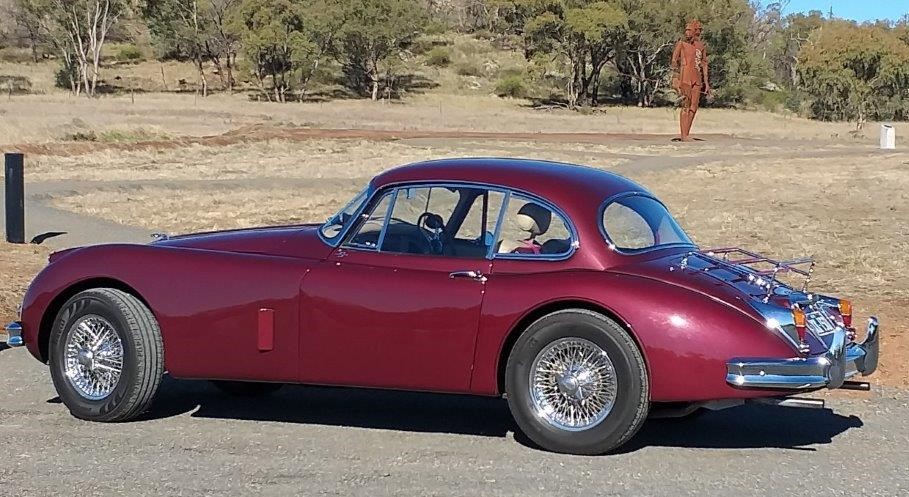 C-Type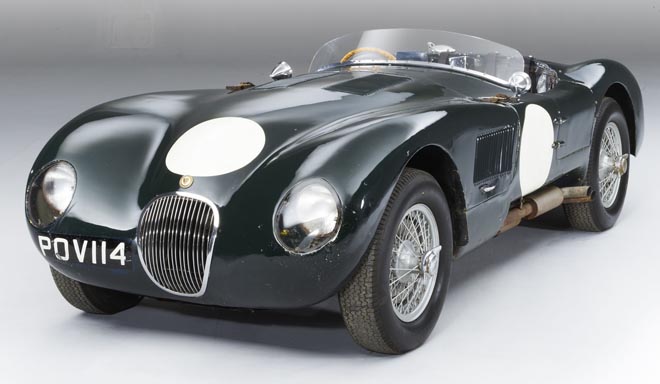 D-Type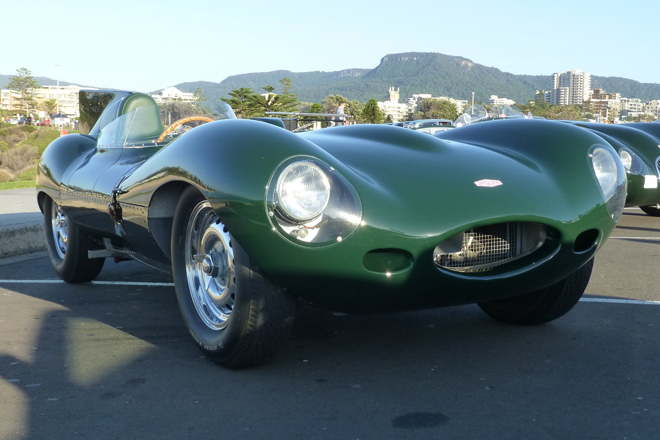 XKSS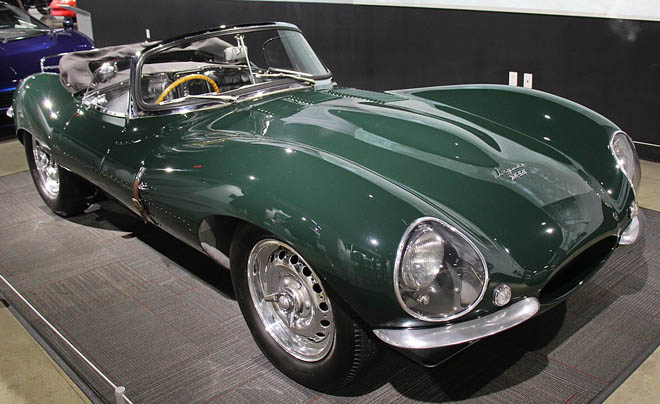 Register Secretary
LIONEL WALKER
CLICK HERE TO SEE MY PROFILE »