Tony Rolfe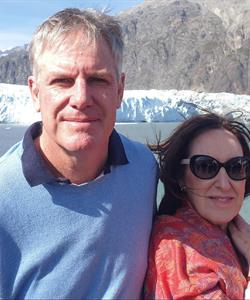 Register Secretary Tony Rolfe with his wife Anne
I was born "in the bush", from a multi-generational farming family, and as such was exposed to many machines, old and new and always essential. From a young age, necessity required me to maintain tractors and farm equipment. After leaving school, I had minis and VWs for a long time, which were pulled to bits and modified as most males of the age did.
My first experience of Jaguars was in the bush in mid 60s, I spotted an E Type Jaguar, and all I could say was WOW. I guess subconsciously, I knew I would love to own one sometime.
Our first Jaguar, turned out to be an E Type. We bought it "sight unseen", out of Nevada USA, as a restoration project. As I pressed SEND, and the money transferred away to the seller, I came out of the office and remarked to Anne, "that was probably the dumbest financial decision I ever made".
In due time the E Type arrived from the USA, and to our surprise, the car had very little rust and was mechanically sound.
It took me about 20mins to get it started, and I drove it around our farm, at Theresa Park.  The next 2 years were spent restoring the car, and since that time, we've had very few mechanical problems. We bought the car 2008, registered 2010, and then the fun really began.
Our daily driver, while the E Type was being restored, was an S Type Jaguar, beautiful car to drive, and great fuel economy with the diesel engine.  We changed to our current Jaguar XE 2016 diesel, again a beautiful car to drive.
We have been members of JDCA for 10 years in November, we have both had great times on runs, and terrific friendships made.
We would like to thank Rob and Marg for their outstanding job as previous Moderns Register Secretary, and if we can be of any assistance to members, please don't hesitate to contact us.
Tony Rolfe
Modern Saloons Register Secretary