STEVEN APPINO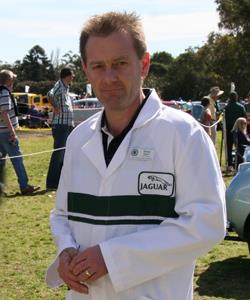 Register Secretary Steven Appino 
My love affair with motor cars started with a Mini Cooper when I was 15 years old. I worked weekends and public holidays at a local supermarket while I was still at school to save cash so I could buy stuff to fix the car up, ready for me to drive when I got my licence. Then followed a succession of other cars – two more Minis, a Gemini SL/X Coupe, 3 assorted Nissans, a Toyota something-or-other, a Commodore HSV LE Wagon and then a couple of Volvos. (Wish I still had the Mini and the Commodore…) But I had always loved Jaguars so I decided that I just had to have one. My first Jag was a brand new 2002 X-Type, factory ordered, with all the frills and what a great car it was.
 After just on 3 years, we had to change it and were Jaguar-less until 2007. Initially I went looking for an original S-Type from about 1965, but as fate would have it I spotted a rather nice, but somewhat messy XJ-S Convertible running around the streets where we live. I mentioned this in passing to Meg and found out, to my surprise, that this was her all-time favourite Jag!
I spoke about this car to a friend of mine and as it turns out, it was owned by his neighbour and that he wanted to sell the car. After a short, serious negotiation and a careful inspection the XJ-S was ours, still unseen by my beloved (she had to trust me on this…). The drive home, all 2km, was far too short but when Meg set eyes upon it she was hooked too! We both love this car, our first classic Jaguar and have enjoyed her company for many years now. We even had a "Happy 21st Birthday" celebration when she turned 21, complete with V12 Cake and Champagne!
We knew that the car was fairly original and in quite good condition, so we decided to enter the Concours d'Etat in 2007 after owning her for only 3 months to find out exactly how good she was. Without asking anyone for advice, we set about cleaning from top to bottom and setting right a whole host of little things that needed doing – like removing the after-market telephone on the console, replacing the pin stripes – and cleaning that V12 engine. To our delight we scored a Silver Award – not bad for a first attempt at any type of Concours!
Over the next few years, we embarked on a quest to bring the car back to completely original specification and have enjoyed spending many hours fiddling, fettling, sourcing and cleaning, and you know your wife really loves you when she is out in the garage with you, helping you do all of this. The results so far - 4 Gold Awards, Best in Class at National & State Level, Second outright in State Concours d'Elegance and ultimately Outright Winner of the JDCA Concours d'Elegance in 2011. Meg and I were absolutely thrilled as we use this car regularly and take her on as many club runs as possible
Initially, we were "sleepy" members even after the first Concour/Display Day, but after deciding to just go on a run to Gnoo Blas for a weekend with the Club we discovered just how much fun can be had when you get involved, whether it be for the social runs, the Concours or the Sporting side (now there's another thing I need to talk to Meg about...). Somewhere in the middle of all of this, I found myself as custodian of the Grand Tourers Register and I am still not quite sure how I was persuaded to do this! We have found that there is something in this club for everyone and there is such a wide variety of people to meet and enjoy the company of.
The only problem that we encountered when we started going on club runs regularly, was that our two youngest children (young adults, really) decided that it all sounded like a lot of fun and wanted to come along as well. We started by doing our first Mountain Rally with them and the rest is history. (Apologies to the Mountain Rally Organisation Committee for that year, as you had never had a family enter before!) Now, they help out with Display day, SuperSprint flagging, National Rally etc. as well as attending whatever Jag Club runs they can go on. The point of all this was that we had to get another Jag to fit us all in. As a result of this, the other Jags we have are:  a 96 XJ6, 97 XJ Sport, a 420 Compact to restore (close enough to an S-Type!), a 2002 XJR and a friend for the first XJ-S – an 88 3.6L XJ-S Coupe that we purchased in England in 2012. Since I am still in trouble with the boss for accidentally purchasing the XJ6 last year, perhaps I shouldn't mention that I just need an XK-R Coupe now to complete the line-up.
As you can see, we love our Jags and in my opinion, they are all Grand Tourers, no matter which model you own.
Regards, 

Steven