Stephen King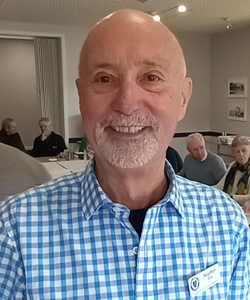 I think my interest in Jaguars started back in about 1959 at the age of 6 when my grandmother's neighbour replaced his 1957 FE Holden with a beautiful black Mk V.  
In the late 60s friends of my parents rolled up one day in a British Racing Green Mk 1, which they later upgraded to a MK10 and then an E-Type. They were JDCA members and I remember attending a Jaguar event with them in 1973 in Centennial Park.  
I have owned three Jaguars.  The first was a Spruce Pearl XJ X300 Heritage.  My understanding is that the "Heritage" badging was unique to Australia in that the badge was used on the "runout" models of the X300 and X308 with a few extras included.  I have also owned a 2004 S-Type X204 and my current Jaguar is an XJ X351.
After finishing my Bachelor of Arts at UNSW I joined the Commonwealth Public Service and retired from the service in 2007.
Although I have lived in Bondi in Sydney and Currumbin in Queensland I have always wanted to live either in the Blue Mountains or the Southern Highlands. In 2013 I moved to Moss Vale where my partner, Charles and I live.  As we have only a carport at our residence I sold my S-Type but enjoy exploring the Southern Highlands in the XJ.
I am a member of the National Trust and volunteer at both Trust properties here in the Southern Highlands, namely Harpers Mansion at Berrima and at Retford Park in Bowral.
In 2019 I joined the JDCA and noticing a number of Jaguar cars around the Southern Highlands I asked the President if he thought there would be any interest in setting up coffee mornings or lunches, which I would be happy to coordinate, to promote the Club here. That is how the Southern Highlands Register, which was initially part of the Illawarra Register, came into being. Our inaugural run was held on the 19th of November 2020 with 18 Jaguar owners meeting at Burradoo Park and traversing through Kangaloon to the Robertson Hotel and since then our numbers have grown considerably.
There are many beautiful drives in the Southern Highlands and special places to explore so I am enjoying the company of fellow JDCA members on our runs and introducing potential new members to the Club.
Stephen