Kaz Hasanic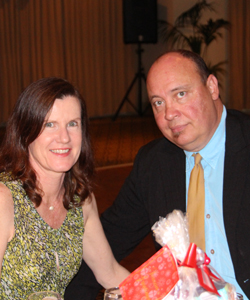 Register Secretary Kez Hasanic with his Partner Therese Bolt 
Since I can remember I have always had an interest and lust for beautiful automobiles. One day at a very early age I was watching my parents look at some photo albums (remember those?) that had pics of when they were first married in the mid 1950s. Amongst the usual 'friends and family' type stuff were photos of cars that my Dad had owned. There were some big American cars, 'Thats a '49 Dodge, and that's a '52 Chevy convertible' my father told me, they looked pretty cool but there was one car that looked cooler, 'What's that?' I asked, 'It's a 1953 MG TD' he said with a frown, your mother made me sell it when we got married. To this day my mother denies this, but from that moment on I was hooked by British cars.
When I first got my licence I drove an old Skoda Octavia into the ground but eventually I soon ended up with (and loved) a 1969 MGB in Ice Blue, that is, until I wrote it off. Then a red Mk 3 Austin Healey Sprite and finally my youthful desire was realised by owning a black 1954 MG TF 1500. Almost like my dad's TD but better! However something else was catching my eye and heart... Jaguar cars!
I had certainly been aware of them for a long while, I had been a passenger in a luxurious 420G during a family trip to London in 1969, had sat and dreamed in a white manual series 3 E-Type OTS in a car yard which I passed frequently on my paper run, almost bought a series 1 XJ6 from a friend and pretended to an eager salesman that I might buy a brand new XJS at Purnell Motors in Arncliffe just so I could get a look at the V12 under the bonnet. Certainly more than anything I wanted an XJ Coupe after seeing one in a book about Jaguars, but I settled on a Mk II because the XJ coupes were still new and way too expensive for me at the time.
So, looking for a Mk II, I ended up buying a 1967 Opalescent Blue S Type instead. If you have read my story about this car in the Nov. 2013 JDCA magazine then you know how much of a beauty (and a beast) this car was. Despite the bad times there were many good and the memory of these stayed with me.
The years went by and I pursued my career as a secondary History teacher and followed the path of Rock 'n' Roll as a lead guitarist in various bands, I drove sensible boring cars but I knew I would own another Jaguar, one day.
That day came many years later, in the 21st century. When looking for an XJC I let my head overrule my heart and bought a modern S-Type 'Sport' instead! I got it from club patron Ian Cummins and have never looked back. My partner Therese and I have enjoyed many club runs and long road trips in this car, we love it.
Next I wanted a series 3 XJ6 or XJ40 as a daily driver and ended up  (there seems to be a pattern here) getting another S-Type 'Sport' instead. By this time I was well and truly a member of the JDCA and had already begun my stint as editor for the club magazine. I also became Modern Saloons register secretary for a couple of years. Recently I sold that second S-Type and acquired a fabulous X350 XJ8. Oh and I finally ended up with an XJ Coupe as well, I made sure of that one!
On the day I bought the XJC I announced to my partner Therese that we were taking it on a two week road trip to Byron Bay and back. She was a bit unsure if that was a wise decision however the car never skipped a beat and performed wonderfully for the whole time. The only problem was that it was caught uncovered in a tropical strength rainstorm and I learnt the hard way that drainage hoses need to be clear! When Dai Thomas stepped down from being XJC secretary in late 2014 he asked me if I would take over. Some big shoes to fill! But after some thought I said yes and look forward to representing the Jaguar which is the rarest of all production models and Sir William Lyons' last design.
Regards
Kez Hasanic – XJ Coupe Register